We have been following the massive sums of cash moving in and out of ARK funds for the last couple weeks, with our last update coming just before the New Year, when we noted that the ETF had posted a $137 million outflow, its largest on record. 
The massive volume in ARK's funds has continued into 2021, as ETF expert Eric Balchunas had predicted late last year when he pointed out several reason the fund could actually become a victim of its own bloated size.
The massive volume hasn't stopped in 2021. On Friday of last week, ARK funds set new inflow and turnover records, as Jim Bianco of Bianco Research pointed out on Twitter Sunday evening. ARK's funds saw inflows of over $1 billion on Friday – something "not even Vanguard did," Balchunas noted Monday morning.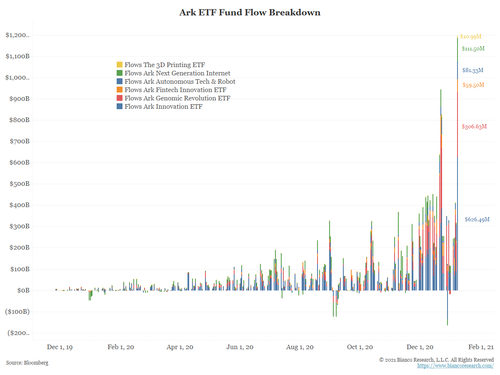 ARK's flagship ETF, its "Innovation" ETF, saw inflows of $626.49 million on Friday, Bianco's charts noted. Again, this was just days after we noted a $136 million outflow for the ETF.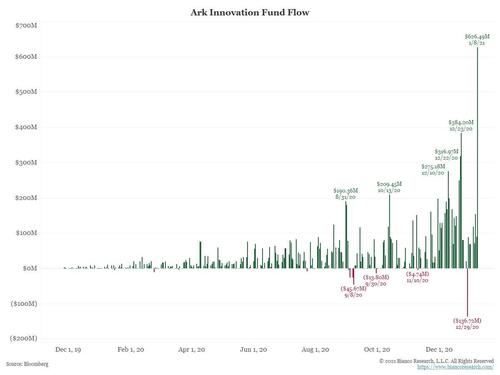 The Innovation fund inflows helped post records for total dollar turnover, Bianco noted, as measured by the price of their ETF times their volume. The firm saw $3.43 billion in total turnover between all of its funds, with the company's Innovation ETF shattering records and posting $1.83 billion in total dollar turnover.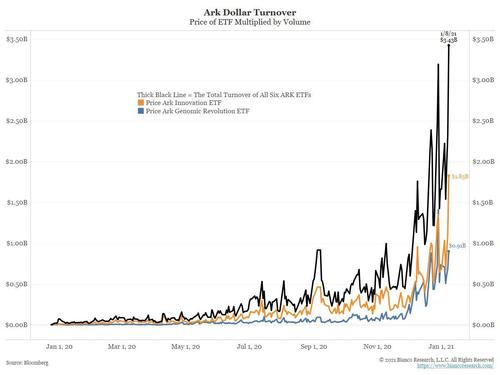 Recall, late last year we published a report highlighting Bloomberg's ETF expert Eric Balchunas' take on how ARK Funds could wind up becoming victims of their own success. 
Many of Balchunas' assumptions pointed out sustained massive inflows into the ARK family of ETFs – notably its ARKK ETF – which we noted late last year was seeing inflows of hundreds of millions of dollars per day. In fact, ARK's haul was so massive that Balchunas noted that it had a chance of taking in more cash than Blackrock in December 2020. 
"This one ETF has more in assets than the other 240 actively managed equity ETFs combined," Balchunas wrote in late 2020.