Italy is about to have an express date with political chaos again.
Overnight, Italian bond yields spiked following the latest media reports that Deputy PM, and Italy's defacto leader, Matteo Salvini had issued a Monday ultimatum to shake up the cabinet and threatened that if his partners in the Five Star Movement don't yield to his demands he'll dissolve the government.
"I'm not one for half measures, either we can do things fully and well or I am not one who clings on to his seat," Salvini said on Wednesday at a rally in the coastal town of Sabaudia. "Something has broken down in recent months," he added, referring to the coalition.
Something that has not broken down in recent months has been Italian bonds, whose yields have bizarrely been tumbling despite the lack of ECB support, although overnight it emerged just who was the buyer of first and last resort was when Bloomberg reported that Japanese investors bought the largest amount of Italian sovereign bonds since at least 2005 in June; purchases of Italian government securities climbed to 278.8b yen ($2.6b), the highest since comparable data became available in 2005, according to Japanese balance-of-payments released Thursday.
And while we issue our sincerest condolences to Japanese pensioners who will eventually be repaid in Italian lira, there was some turmoil overnight in the Italian bond market following the Salvini ultimatum, with 10Y yields jumping by 10bps…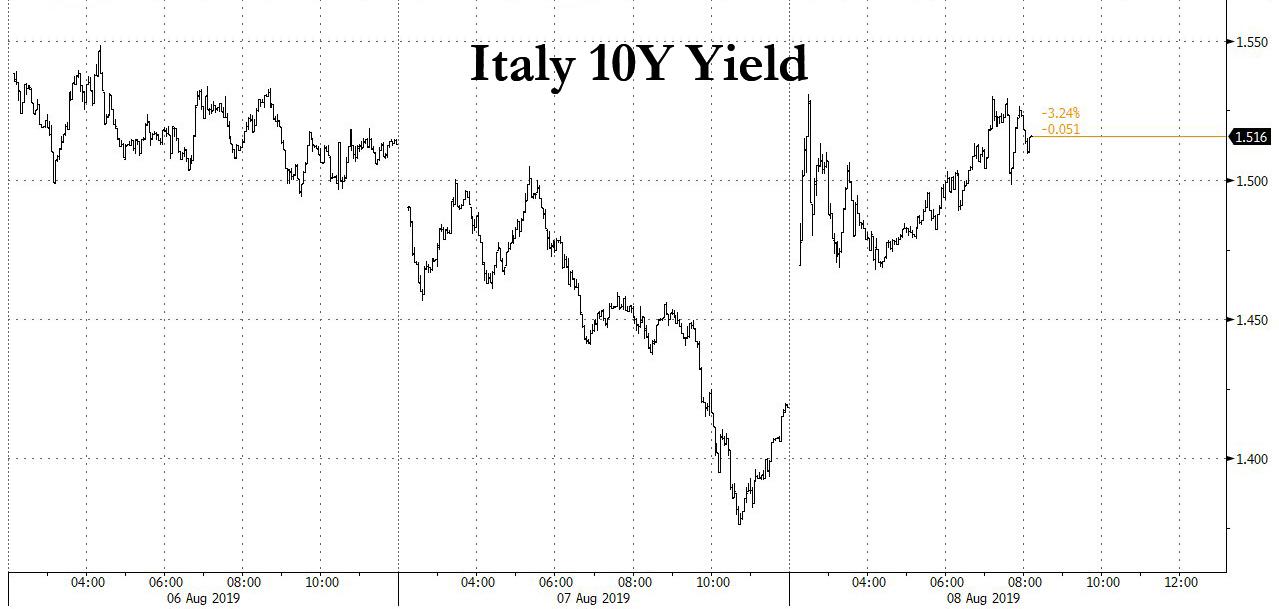 … while "lo spread", or the 10-year yield premium over Germany climbing to the widest level in a month. It rose by as much as nine basis points to 2.09% before paring the increase to four basis points.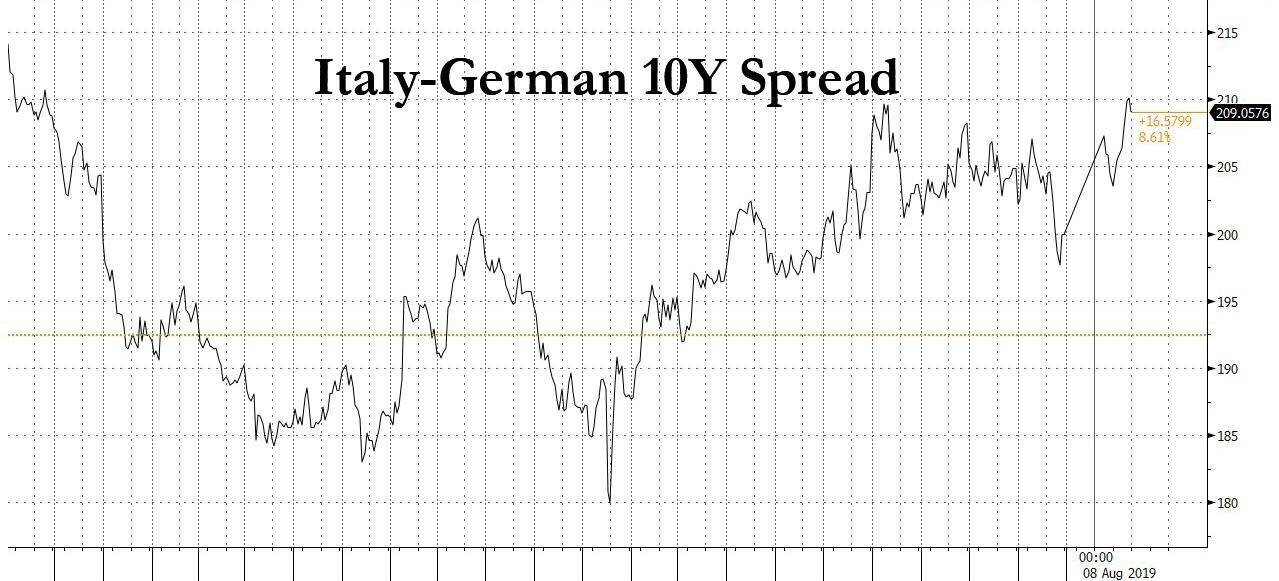 While hardly new, threats from Italy's de facto leader to his Five Star government alliance "partners" have been escalating in severity in recent days, urging that either they stop trying to delay his agenda or he's ready to pull the plug on the government and try to force early elections. Salvini, the League party leader, has called for deep tax cuts and investments, even if they fall afoul of European Union rules.
Salvini supporters have been pushing him for months to ditch the coalition as the League's poll numbers approach 40%, a result that could allow it to govern on its own, and would likely result in another bond quake in Italy a la late 2018.
As Bloomberg adds, the deputy premier on Wednesday canceled rallies at beaches south of Rome as he preferred to stay in parliament and huddle with advisers and colleagues. In the evening he held a long meeting with Prime Minister Giuseppe Conte and has since called off events scheduled for Thursday. Conte has reportedly canceled events on his schedule for Thursday as well, suggesting he is about to make a major announcement, which could well mean the end of Italy's government.
And speaking of the ultimatum, Salvini has given the prime minister until Monday to accede to his demands for changes in the cabinet or he could meet with Italy's president to begin the process of breaking the government up, Corriere della Sera reported. The League leader is calling for the immediate ouster of Transportation Minister Danilo Toninelli. He's also reported to be seeking to replace other cabinet members, notably Finance Minister Giovanni Tria.
There still may be some hope: in a Wednesday night speech, Salvini thanked Conte and fellow Deputy Premier Luigi Di Maio, who heads Five Star and with whom he has quarreled incessantly since the government was formed over a year ago. He also denied he is merely seeking more cabinet posts for the League and added that what happens next is "in the hands of the Italian people."
"Like in marriage, if you spend more time quarreling and trading insults rather than making love, it's better to look each other in the eyes and take an adult decision," Salvini said, adding that decisions could be made "in the coming hours."
Alas, that decision may well be a divorce: Italian bonds took another leg lower after reports that PM Conte was set to meet with President Mattarella, ahead of the coming government collapse and subsequent elections that will assure that Salvini is Italy's undisputed leader, one who no longer need a coalition partner to govern.