President Joe Biden called for New York Governor Andrew Cuomo to resign after the state attorney general detailed allegations of sexual harassment of several women.
"I think he should resign," Biden said to reporters at the White House on Tuesday.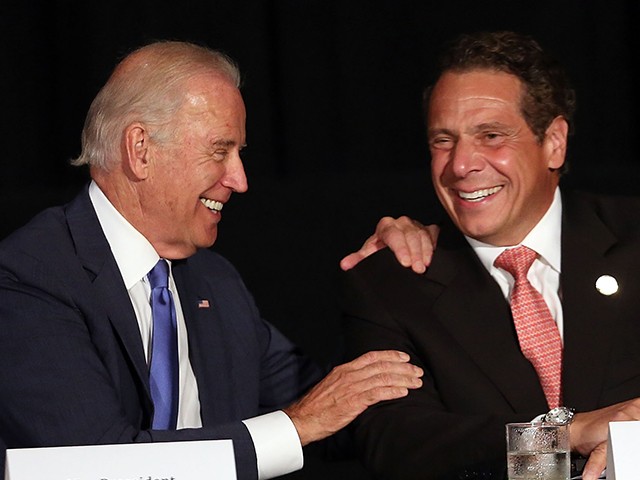 NEW YORK, NY – JULY 27: Vice President Joe Biden (L) appears with New York Gov. Andrew Cuomo to unveil plans for new infrastructure projects on July 27, 2015 in New York City. The highlight of the event was an announcement that a new LaGuardia airport will be built, with construction starting next year. The new facility will will feature state-of-the-art security, transportation and shopping and dining options. The project is estimated to bring 8,000 new jobs to the area. (Photo by Spencer Platt/Getty Images)

Biden admitted he did not know the full details of the state attorney general's report and even suggested that some of Cuomo's unwanted embraces were misunderstood.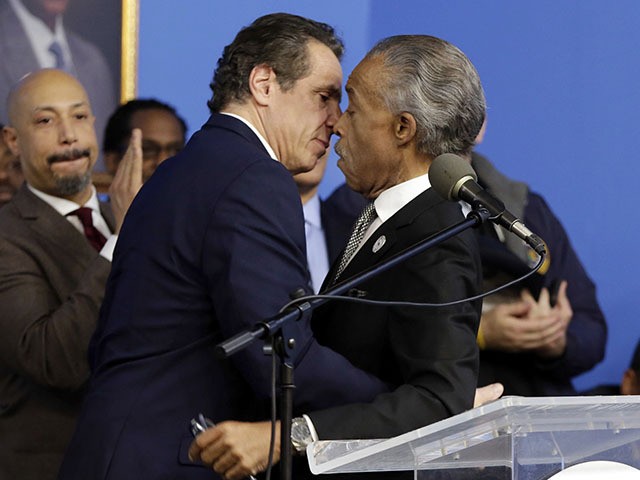 In this file photo, New York Gov. Andrew Cuomo, left, Rev. Al Sharpton embrace as Cuomo is introduced at the National Action Network House of Justice, in New York, Monday, Jan. 15, 2018. (Richard Drew/AP Photo)
"I'm not going to fly-speck this. I'm sure there were embraces that were totally innocent," he said. "But apparently the attorney general decided that things weren't."
Biden also suggested that Cuomo may face impeachment for his actions.
"I understand that the state legislature may decide to impeach," he said. "I don't know that for a fact. I have not read all that data."
Cuomo categorically denied the allegations in a video on Tuesday, refusing to resign.
"I never touched anyone inappropriately or made inappropriate sexual advances," he said. "I am 63-years-old. I live my entire adult life in public view. That's just not who I am."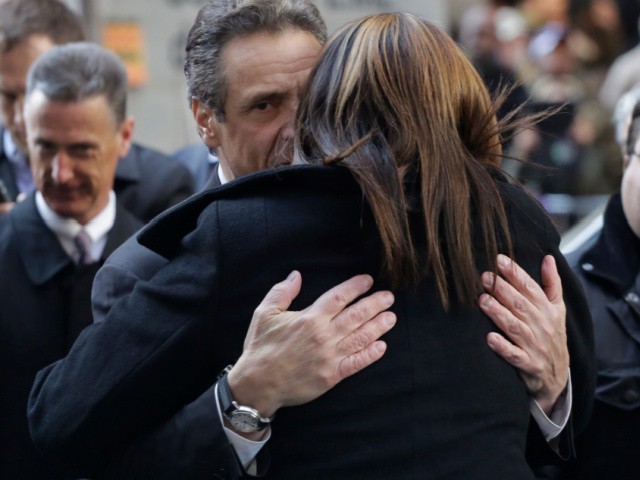 New York incumbent Democratic Gov. Andrew Cuomo hugs a supporter after giving a campaign speech in New York's Times Square, Monday, Nov. 3, 2014. He faces Republican challenger Rob Astorino in Tuesday's election. (AP Photo/Mark Lennihan)
New York Attorney General Letitia James condemned Cuomo's actions, saying her office found evidence of multiple incidents of unwanted groping, kisses, hugging, and inappropriate comments.
"We found his denials to lack credibility and to be inconsistent with the weight of the evidence obtained during our investigation," she said.
The investigation included interviews with 179 people, including state troopers and current and former staffers and includes more than 74,000 pieces of evidence.