Germany's Ursula von der Leyen, considered a key and close ally of Chancellor Angela Merkel, has been narrowly elected president of the EU Commission, becoming the first woman to fill Europe's most powerful policy-making post, and the first German at the helm in over half a century. 
The 60-year old center-right German defense minister will replace Commission President Jean-Claude Juncker starting November 1st after receiving votes from over half of the members of the European parliament on Tuesday evening. 383 European lawmakers voted in favor of von der Leyen assuming the EU's most visible post, surpassing the 374 votes needed to confirm her. Chief Economist at Berenberg Bank, Holger Schmieding said the EU had "averted a major institutional crisis" by securing the appointment.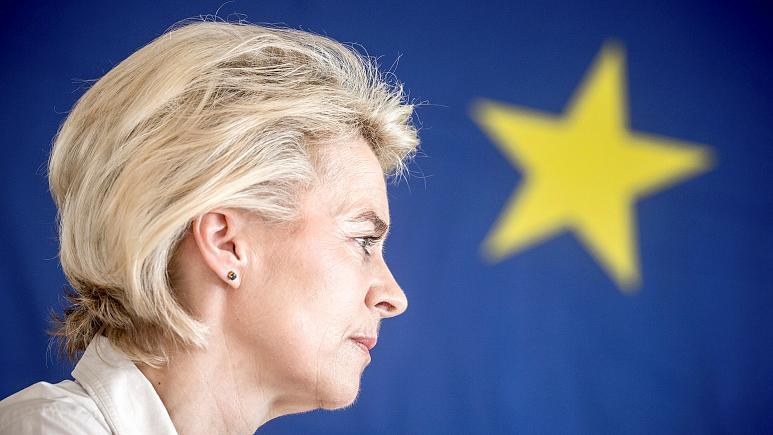 Schmieding pointed out further that there's now no doubt that Christine Lagarde, who just announced her resignation as head of the IMF, will be next President of the European Central Bank.
Ursula von der Leyen's succeeding Luxembourg's Juncker means the top policy job will remain in Christian Democratic party hands (CDU) for another five years. Her nomination over two weeks ago was generally considered a "total surprise". She's long been considered among the strongest pro-EU voices in Merkel's cabinet. 
A BBC political analyst pointed out that "European leaders will be breathing a sigh of relief," given it "took days of fraught negotiations and a difficult compromise among EU countries to nominate von der Leyen.
"Our most pressing challenge is keeping our planet healthy," she had told the EU Parliament prior to the vote. "This is the greatest responsibility and opportunity of our times." She also vowed to push for more social welfare oversight by the EU, to advance women's rights, and to root out poverty. 
Bloomberg noted,
She also pledged to turn parts of the European Investment Bank, the EU's lending arm, into a "climate bank" in a bid to unlock 1 trillion euros of investment ($1.12 trillion) over the coming decade.
On commerce, she's warned against the dangers of protectionism and upheld the World Trade Organization's multilateral vision. "We defend the rules-based order because we know it is better for all of us," she said. 
The BBC summarized her positions outlined in her speech given in European parliament Tuesday as follows:
She would push to give the European Parliament "the right of initiative" – meaning the Commission would have to legislate on MEPs' resolutions; currently only the Commission can draft laws
On irregular migration to the EU, she said she would boost the EU's border force Frontex to 10,000 staff by 2024, but said "we need to preserve the right to asylum through humanitarian corridors"
She offered an EU "reinsurance scheme" to bolster national insurance schemes for the unemployed.
"The trust you placed in me is confidence you placed in Europe," she said after securing the vote Tuesday.
Congratulations Ursula @vonderleyen. Congratulations Europe.

— Donald Tusk (@eucopresident) July 16, 2019
"Your confidence in a united and strong Europe, from east to west, from south to north," she continued "It is a big responsibility and my work starts now," she added. "Let us work together constructively."
Interestingly, Poland's Prime Minister Mateusz Morawiecki pointed out at press conference in Warsaw that votes from Law & Justice MPs had "tipped the balance" in von der Leyen's favor, and that she sees eye to eye with Poland concerning the "threat from Russia," as related by Bloomberg. In other words, it was the Poles who assured that Germany maintains its supreme dominance over Europe, and did everything in their power to weaken Russian influence in Europe.
In light of historical events, it would be ironic if that particular twist comes back to bite Poland some day in the not too distant future.