Less than two months after roughly $1.3 billion worth of cocaine (18,000 kilos) was seized from the MSC Gayane container ship at a Philadelphia port on June 17 after stops in the entire drug belt including Colombia, Chile, Peru, Panama and the Bahamas – with the subsequent news that the ship belonged to JPMorgan not exactly shocking too many people – on Friday in a remarkable one-two punch, German law enforcement officials did their best to put JPMorgan out of the cocaine distribution trade for good (just kidding, just kidding), after Germany double down with the country's biggest cocaine bust in history as well.
"Assuming that this likely high-purity cocaine can be cut to triple the amount for street sale, the 4.5 tonnes has a street value of approximately €1 billion," said the Hamburg customs department on the matter. That's over a billion US dollars, and just shy of the record haul captured in Philadelphia 6 weeks earlier.
The drugs – sent from Montevideo, Uruguay, and hidden in 211 black sports bags that had been packed inside a shipping container – were uncovered during a routine shipment check and labeled as soybeans, which perhaps may explain the recent surge in "soybean" trade and which has nothing to do with circumventing Chinese tarfiffs on US imports. The druges were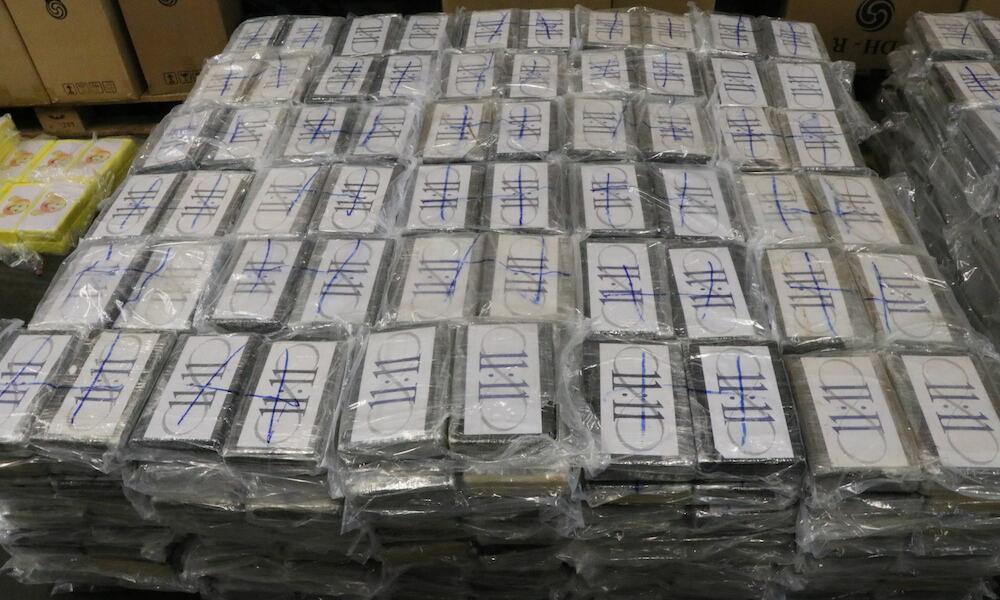 Stuffing the cocaine in sports bags is hardly the most creative way the drug has been smuggled into Europe recently. In July, a man was discovered in a Barcelona airport with 1.1 pounds of cocaine tucked under a terribly-fitting toupee.
Agency officials now say that the contraband has been destroyed "amid strict secrecy and extensive security precautions," and that officials are now concerned with investigating the intended recipients of the container in Antwerp, Belgium.
Fingers have been pointed when it comes to where the illegal drugs are being passed through. In addition to the Hamburg bust, a plane that arrived in Switzerland with a half ton of cocaine points to Uruguay's role as a transit point for the narcotics. A month-long report completed by CNN also points to Venezuela's position as a smuggling point for drugs destined for the United States. That report suggested that much of the drugs were being produced in Colombia's Vichada region, which is located close to the country's long border with Venezuela. In that area, coca agriculture provides some of the only economically viable jobs for residents. A UK Guardian investigation from June explored the ways that the US' tighter border security was resulting in an uptick of cocaine exports to destination countries in the eastern hemisphere.
A spokesperson for the Hamburg customs investigations office said that the high amounts of drugs that agents in the port have discovered are a source of pride for officials. Nonetheless, he estimated that only a quarter of illegal drugs sent to Germany from South America are discovered, which would put the total of cocaine arriving yearly to the port at 30 tons.
And while JPMorgan almost certainly had nothing to do with the two consecutive busts (one hopes), the size of the haul means that South American drug cartels are getting ballsier about the quantity of controlled substances they're smuggling to ports in the region, according to the aptly named "High Times." Either that, or they are simply getting sloppier. Of course, the double loss of over $1 billion in drugs will result in some serious turmoil in even the most financially padded drug organization so one may, for example, expect even more homicides in Mexico where 2019 is on pace to become the most murderous year in history as a result of an unprecedented surge in shootouts between rival narco organizations.
To be sure, in addition to the record Philadelphia June 17 haul, there has been a surge in intercepted drug shipments this year with the US Coast Guard announcing that it has confiscated $569 million worth of cocaine since May—17,000 pounds of which were discovered in a June 18 video that showed officers in hot pursuit of a semi-submarine.
WATCH: Dramatic video shows Coast Guard crew member jumping on submarine alleged to be carrying more $569 million worth of drugs https://t.co/6wnUJrsv2W pic.twitter.com/kU8cREAlVi

— CBS News (@CBSNews) July 12, 2019