War-torn regions of the Middle East remain hugely vulnerable for the spread of Covid-19 due to hundreds of thousands of families packed into often filthy temporary settlements already running low on basic staples for survival. 
And now a nightmare scenario is unfolding in Iraq as the United Nations has recorded the first suspected coronavirus cases inside an Internally Displaced Persons (IDP) camp.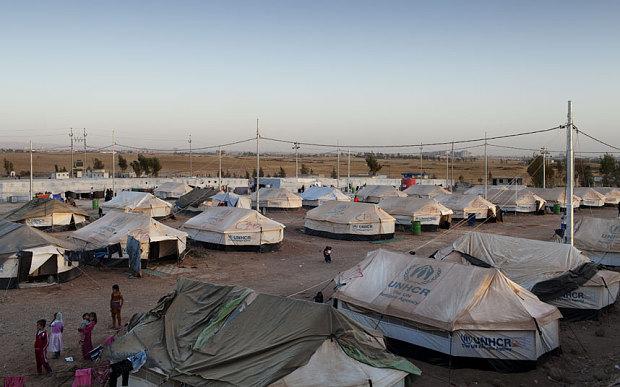 The UN Office for the Coordination of Humanitarian Affairs (OCHA) issued an alert in its latest humanitarian report this week, noting also the World Health Organization (WHO) has dispatched additional supplies and medical devices to Iraq amid broader closures of public spaces after at least 71 confirmed cases nationwide.
But with millions of refugees in the region, especially along the Turkish-Syrian border, and after Erdogan has effectively 'opened the gates' on waves of migrants headed to Europe, the spark that could erupt an explosion of outbreaks in camps across the Middle East may have started. 
— Charles Lister (@Charles_Lister) March 12, 2020
The alarming new OCHA report reads: 
The first suspected cases of COVID-19 were documented in an IDP camp in Ninewa; the affected persons were transported to hospital, and a makeshift isolation unit was put in place. Sterilization activities are under way.
Crucially, this region lies along the Syrian border in Iraq's northwest, and is near Turkey in a broader border area which has over the past years witnessed entire 'refugee cities' erected. 
Surrounding countries like Kuwait have taken proactive measures for heightened testing along their borders and points of entry, but other regional governments have lagged behind: 
Kuwait is testing for #COVID19 every single expat who arrived in the country since 27th Feb 2020.

Look at the enormous size of this operation ? https://t.co/AOH40qd11k

— Jenan Moussa (@jenanmoussa) March 12, 2020
The WHO previously said it's especially concerned of an outbreak among refugee populations in war-torn regions of Iraq and Syria. 
"Refugees and internally displaced populations across Iraq and Syria have been identified as the most vulnerable groups in the region, should the spread of the virus become a pandemic," The Guardian reported of recent statements. 
"Health officials in both countries remain under-equipped to deal with such a a reality that seems more possible with each passing day," the report added.
And as Turkey continues to allow and even actively facilitate the passage of refugees and migrants into Greece and other EU states, the Covid-19 crisis currently shutting down entire countries in Europe is set to explode further.