Financial firms that sell research have now stapled fees to all of their services, not unlike airlines do, according to Bloomberg.
Speaking to an analyst, meeting a corporate executive order or getting a custom report are all going to run an extra fee as a result of European rules introduced last year to promote transparency and investor protection. Banks are now required to attach a price to a service that had long just been an ancillary benefit for trading clients. But after 18 months, pricing still remains somewhat of a mystery for research.
Nick Burchett, head of U.K. equities at London-based Cavendish Asset Management said:
 "It's difficult to try and work out what the right value is. It's not like going to buy a book."
Few sectors have been as damaged as research over the last few years. Research has met headwinds not only from regulation, but also from passive investing and AI. This means that analysts are a dying breed and have to fight harder for a "smaller piece of a shrinking pie".
The top 12 investment banks employed about 3700 people in cash equities research as of Q1 this year – that number is down 14% from 4300 five years ago.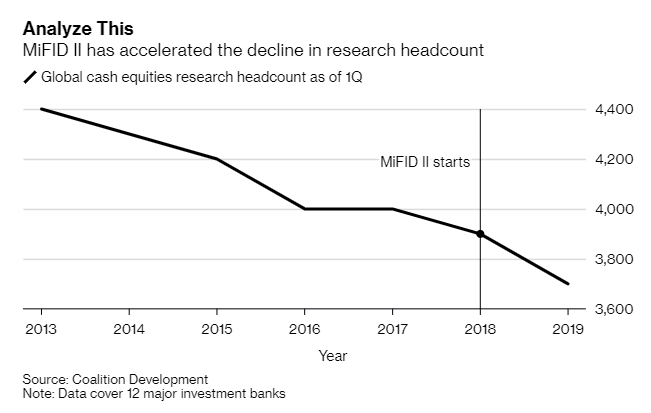 In addition, spending on researchers tumbled, with boutiques sharpening their niche, causing names like BNP Paribas to outsource its equity research to shops like MorningStar.
Benjamin Quinlan, chief executive officer of financial-services consultancy Quinlan & Associates in Hong Kong said:
 "You're starting to see the buy side consolidate their research providers. If you're having to shell out and cough up money for research out of your own pocket, you're not going to go to a ninth or 10th-ranked analyst that BNP has to offer you. You want to go with the top one, two or three."
A survey of 27 banks, brokers, fund managers and research shops shows that the base price for research is generally about $10,000. Critics like the European Association of Independent Research Providers called that "predatory pricing". One report alone from an independent shop generally costs about $2000 on average.
And pricing models for research span from tiered subscriptions to "all you can eat" packages. They can be customized to a client size and needs. The average revenue per client ranges from $1600-$1 million annually – and some banks even price written research cheaper in order to upsell clients to premium services.
Morgan Stanley, for instance, charges $25,000 for 10 users and Goldman Sachs offers the same price for four logins. Bank of America's research costs $30,000 for five users and a one on one meeting with corporate executives will cost $150 per attendee to arrange.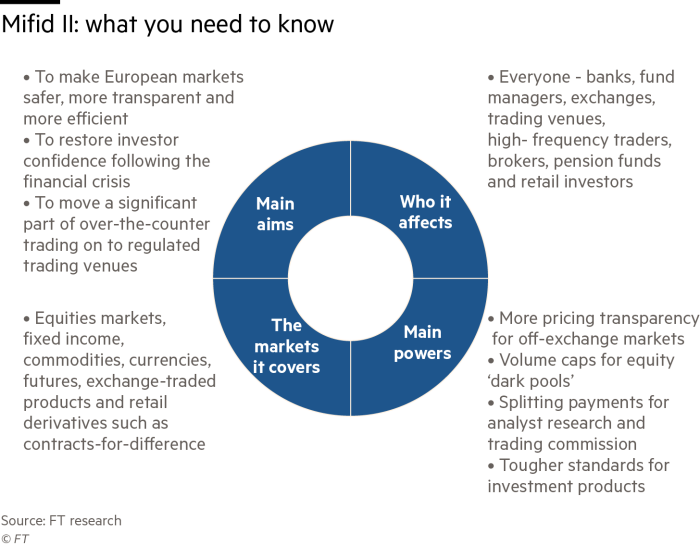 The new regulation, called MiFID II, has generated complaints from just about everybody. Detractors say that it favors large banks over smaller brokerages and independent analysts, and bigger asset managers over smaller ones. Detractors also say that it favors US firms over European ones and large-cap stocks over smaller ones.
Big banks have a few advantages. They have more comprehensive coverage and can afford to make less money off of research.
Colin McGranahan, head of research at Sanford C. Bernstein in New York said: 
"Some of our competitors as a result have increased the cross-subsidization of their research departments from their banking. What it's causing in some instances is sort of a return to a situation we try to correct two decades ago where banking is now paying for a much larger portion of the research department and is exerting more influence over how the research department acts."
The market is finally starting to stabilize during the second year under MiFID II. After equity research budgets were slashed 19% last year, large European institutions are planning a smaller 6% cut in 2019, with the average budget coming in at $8.3 million.
Thomas Brown, a London-based fund manager at Miton Group said: "We actually discovered it's quite nice to have fewer phone calls, fewer emails. We get more time to actually do our own work."