Weeks have passed since a New York State judge surprised investors, corporate borrowers and the bulge-bracket banking community when Judge Jesse Furman, a judge for the Southern District of New York, ruled that he was bound by precedent to allow a group of asset managers to keep some $500MM accidentally transferred by Citigroup.
When they first surfaced last summer, reports that Citigroup had accidentally transferred $900MM to creditors of the ailing cosmetics company Revlon (the cornerstone of investor Ron Perelman's business empire), the public reaction initially focused on the pitfalls of working from home (maybe a dog hit the keyboard?), before the conversation shifted to what this means for the market, and finally, what, exactly, happened in Citi's back office that led to the loan?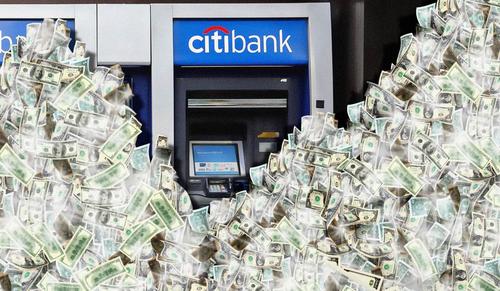 Well, after weeks of reporting, Bloomberg's Businessweek has finally gotten to the bottom of what precipitated the "fat finger" transfer. As one of the biggest arrangers of corporate loans, Citi routinely distributes interest payments. Bloomberg described the business as one that doesn't generate "meaningful revenue", but is considered a critical part of the relationship-building that leads to deals. But a "quirk" in the Revlon deal made managing this loan a little more complicated for the bank's back office.
As the team struggled to pay out one creditor who had exchanged its stake in the loan for a stake in a different Revlon loan deal, the team accidentally sent the entire principal – $894MM – to its creditors using the bank's own money. Ultimately, the failure to check two boxes in Citi's proprietary loan-management software led to the fateful transfer. Transfers of that size must be approved by three people at the bank, but nobody handling the transfer was made aware of the situation until it was too late.

A quirk made the Revlon transaction less routine. One of the investment firms that owned a portion of the loan had agreed to exchange its stake for a chunk of a different Revlon loan and needed to be paid interest that had accrued up to that point. It wasn't a maneuver that Citigroup's systems were designed to handle, but the bank had a workaround. It involved moving the principal of the loan temporarily into one of the bank's own accounts and then recreating the loan to reflect that the creditor would no longer own a piece of it.

What the employees didn't realize that Tuesday evening was that by failing to check two boxes in the byzantine software Citigroup uses to execute payments, they'd authorized the entire principal on the loan – about $894 million – to be paid to the creditors with the bank's own money. Wire transfers of that size require the approval of three people, but no one handling the Revlon payment became aware of the mistake until hours after it had been distributed. "Bad news," the Citigroup manager in Delaware wrote in a Skype chat to his superior the next morning. "Principal out the door when it was supposed to be sent to wash for Revlon structure."
Mistaken transfers like this aren't totally unprecedented: Deutsche Bank once accidentally paid out a dizzying $28 billion, more than the bank's entire market cap. But things got complicated when a group of Revlon creditors, who had been engaged in a legal game of chess with the company and Perelman, whom they'd accused of stripping assets from Revlon via additional debt deals in contravention of the loan covenants, decided they would keep some of the money – about $500MM.
Brigade, HPS, and Symphony had accused Revlon of violating the terms of its loan agreement by pledging some of its intellectual property, including trademarks, as collateral for new debt. The furious investors made little secret of their antipathy toward Revlon, Perelman and Citigroup, which helped to facilitate the move (after all, those new loan deals represented business that does bring in "meaningful revenue" for the bank. Who cares about the former creditors?). Citigroup helped Revlon secure a new loan from a lender "sympathetic to management" (ie a friend of Perelman's who would side with the company over other creditors, effectively placing some of Revlon's most valuable assets out of creditors' reach in the vent of a bankruptcy).
Brigade, HPS, and Symphony had accused Revlon of violating the terms of its loan agreement by pledging some of its intellectual property, including trademarks, as collateral for new debt. In the eyes of these funds, this put some of Revlon's most valuable property out of their reach in the event of a bankruptcy. The investors also had made little secret of their antipathy for Citigroup, which they faulted for facilitating the move and for helping Revlon secure a new credit line from a lender sympathetic to Revlon management that would side with the company in disputes among creditors.
Court documents reveal what happened next: asset managers who received the money howled with laughter as notices from Citi demanding the money be returned started hitting their inboxes. HPS and a dozen other asset managers replied that they believed they were owed the money, and decided to keep it. "We were just paid money that we were owed by a borrower and an agent who were involved in a significant game of chess," Symphony Asset Management head Scott Caraher told the court.
"Downside of work from home," a portfolio manager at HPS quipped in a chat message among HPS employees. "Maybe the dog hit the keyboard." "How was work today, honey?" the same person wrote, imagining both sides of a dinner table conversation. "It was OK, except I accidentally sent $900 million out to people who weren't supposed to have it." Some creditors agreed to return the funds, allowing Citigroup to recoup about $400 million. But in spite of numerous requests from the bank, HPS and almost a dozen other creditors refused to budge, arguing that they were entitled to keep the cash.
According to Bloomberg, the fallout over the transfer wasn't a total surprise. Battles between creditors and lenders became more common during the pandemic as revenue dried up for some firms. And in the age of "covenant lite" loans, and the systematic watering-down of once-ironclad loan agreements, the space for legal disputes has expanded. A PM from another credit fund that wasn't involved in the dispute complained that bond covenants have become "Swiss cheese."
"We all know that these docs have really become Swiss cheese," says Chad Valerio, a portfolio manager at Onex Credit Partners, which isn't involved in the Revlon dispute. "When a company is backed up against the wall and when a sponsor is trying to figure out how to extend their option, or a creditor is trying to figure out how to get a better outcome for themselves, people are going to get really creative and do what they have to do."
Citi has infamously burned bridges with all of the intransigent lenders in the aftermath of the dispute, cutting them out of future loan deals. But what does Citi expect these lenders to do, simply sit still while management strips away a firm's most valuable assets?