The American news media is now officially polled as the least trustworthy on the entire planet.
A Reuters Institute / University of Oxford survey polled 92,000 news consumers in 46 markets around the world, including India, Indonesia, Russia, and many other nations. The Executive Summary Report is damning, and is best expressed concisely in this graph: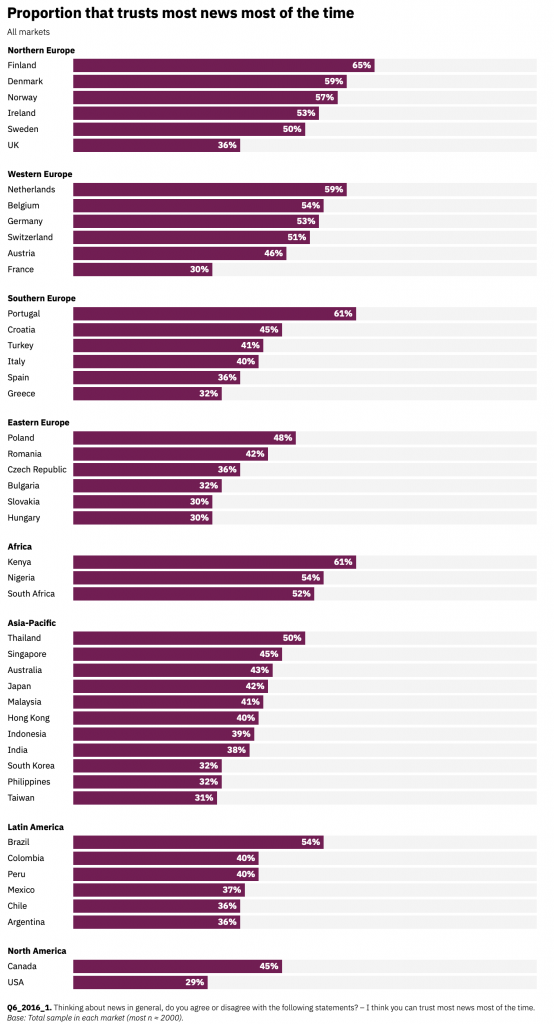 The USA is dead last, with a 29% trustworthy rating.
It is amusing that Russia was not included on this list, but it is also interesting that several other former Communist countries, such as Croatia, Poland, the (now) Czech Republic, Bulgaria, Romania, and Slovakia all show higher trust ratings. Romania had one of the most oppressive regimes under Communism, and now as a free nation, it enjoys a 42% trust rating.
The Hill offered some pretty good analysis, to which we added a little emphasis:
The U.S. media is the least trustworthy in the world, according to a comprehensive new Reuters Institute survey encompassing 46 countries.

Yes, you read that right. The country with among the most resources in this arena – human, technical and otherwise – finished dead last. Finland ranked the highest, with a 65 percent trust rating. In Kenya, the trust rating clocked in at 61 percent.

But here in the U.S.A., the home of global media giants including the New York Times, Washington Post and CNN, we're trusted by a whopping 29 percent of those reading and watching.
We cede now to Dr. Steve Turley, whose analysis of this situation and the how and why of it is fascinating. He even "goes there" talking about how the reality in Russia is that nobody here is interested in Alexey Navalny, because the American press IS interested in him.
This is a very worthwhile video. Enjoy!
The statements, views and opinions expressed in this column are solely those of the author and do not necessarily represent those of The Duran.