While not nearly as closely watched as the 10Y or the 30Y, the relatively new entrant to coupon auctions (it returned after a three decade hiatus last May) the 20Y auction which just priced with a slight delay today, was a blockbuster success.
The sale of $24BN in 20Y paper (technically a 19-Year 11-month reopening of the Feb CUSIP SW9) priced at 2.290%, which while far above last month's 1.920% as per the recent bond rout, stopped through the When Issued 2.31% by a whopping 2bps, the biggest stop through in the 20Y's brief history.
The Bid to Cover soared from a paltry 2.15 in February to 2.51, the highest since June and an impressive reversal to the declining BTC trend observed in recent months.
The Internals were also stellar, with Indirects taking down 61.4%, far above the 54.9% in February and above the 59.3% six-auction average and the highest since October; and with Directs taking down 17.0%, also above the 15.7% recent average, Dealers were left holding just 21.6%, the least since October's 21.5%.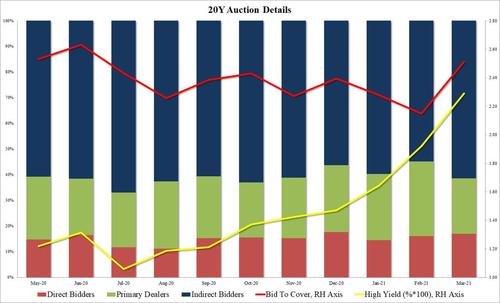 While the impressive auction result was remarkable in itself, what was just as notable is the plunge in yields observed across the curve but especially in the 20Y which tumbled by almost 5bps once the auction priced.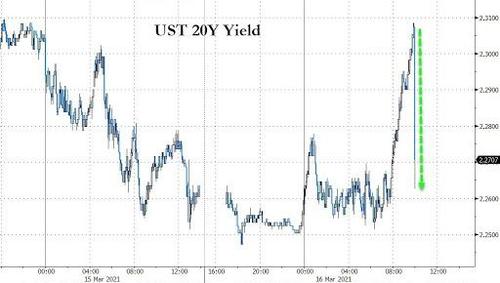 What sparked the selloff?
It's unclear but likely to have been recent muscle memory following the catastrophic 7Y auction from 3 weeks ago, and with the FOMC tomorrow traders were likely quiet nervous and unwilling to have too much exposure ahead of tomorrow's main event. As it turned out there was no need to worry, but while bond buyers may be laughing today it can all change on a dime tomorrow depending on what Powell says on Wednesday because just one day after today's auction, one hawkish comment too much from Powell and we will see a historic wipe out not only for the 20Y TSY but across the entire long end.